The guest page of Mr. Bannerjee
by Prof. Y. Lupardi

---
Mr. Bannerjee is from Benares and has lost his Green Card and marbles. He does not speak Dutch. Now he only has his American half dollar passport number B 57833895 U and a single Rupee note only.
He want to do the 11-caches tour of Holland. So if anybody can give him a lift to somewhere else, please do so.
Please keep me updated of the whereabouts of this valued guest.
Prof. Y. Lupardi

Here is a picture of Mr. Bannerjee before he visited on october 17 2001 the 'Hold your Horses' cache.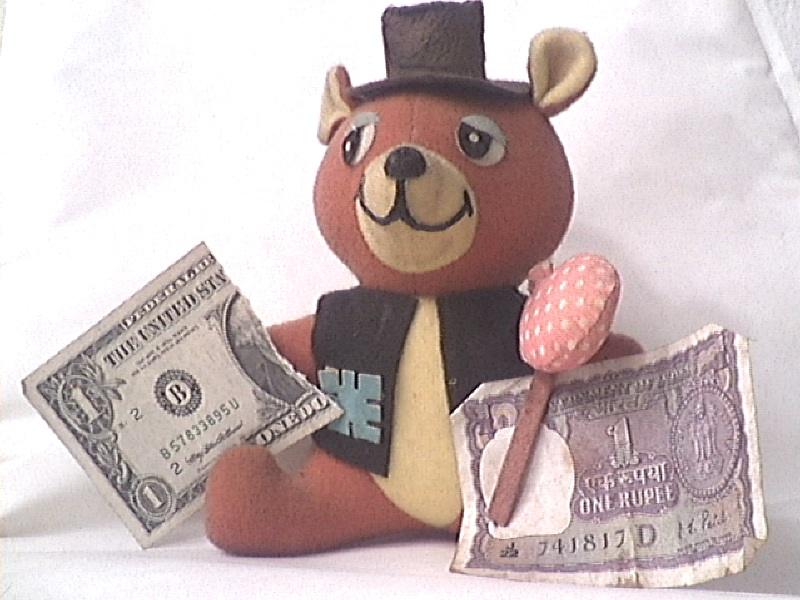 ---
NEW!!! NEW!!!
There is a special webpage now where you can read all the logs about his travelling expierences
The adventures of Mr Bannerjee
---
Until now the following visits are logged:
Hold your Horses
from where he was taken on october 21 2001 by the Waterboys to land in their new cache
Oosterplas (#3 of Thijsse´s Wish Trilogy)
and to be taken on november 15 2001 to a new location by Boyscout Senne + Emmy, Laura and Ralph.
And this location is:
Jacoba
from where Lynn+ Jan have taken him on november 23 2001.
Later on he was transported to the cache Rucphense Bossen What happened then is a bit unknown. The next message was from Rovertje telling me that Mr. Bannerjee was found in his cache 'De Mosten' and - according to a note - placed there on 11 august 2002 by AXA????.
Later on he was placed in the 'Duivelscache'(devil's cache) where he was found by Euro & Co on the 22 september.
They took him tot the island of Texel in the North where he is in cache 'de Zeehond' at the moment.
On 8 oktober 2002 a message from the Cairnteam told me that Mr. Bannerjee is now between trees in the cache Ins blaue hinein. But after a few days in the woods the geocacher 'Dwarreltje' has taken him to a warm place and the next weekend to another guesthouse.